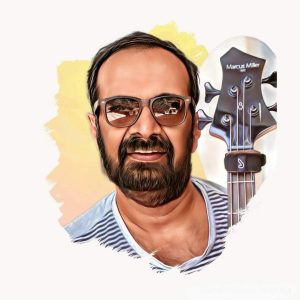 Jayakumar KeralaVarma a.k.a Jayen Varma is an experimental bass guitar player. He has been in the world of music for the last five decades performing with various musicians and bands of different genres. 
He is known for innovating the idea of Indian Slap Bass – the novel technique of applying tabla and mridangam based finger movements on bass guitar.  The innovation has gained him fans across the world and acknowledgements from many great bassists.  
He has also sung in a Malayalam movie.  The song named 'The country song' composed by Gopi Sundar for the movie Koothara was released in June 2014. 
He uses and recommends Sire Bass Guitars and Gruv Gear FretWraps 
"Based on certain bass guitar techniques emphasizing speed, I had in the past set records for the fastest bass player.  But I have come to realize that all accomplished bassists are fastest in their own styles and techniques.  And I no longer wish to be known for titles based on speed.  I respect everyone who plays the bass." Jayen Varma